Citizen-driven initiatives will let Utah voters pass new laws that legislators have let languish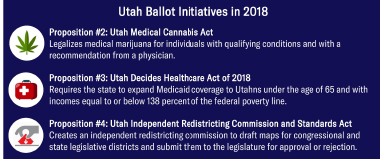 This November it's extremely important to complete your entire ballot. That's because Utah voters will consider three numbered ballot questions addressing medical marijuana (proposition #2), Medicaid expansion (#3), and redistricting (#4).
Since these initiatives are placed at the "bottom" of the ballot—below the candidates running for office—some voters skip this section. Others might be confused by their legalistic wording. But these initiatives deserve your attention, not least because of the significant hurdles backers overcame to place them on the ballot.
While a ballot anchored by three initiatives is new in Utah, the policies underlying the issues are not. In recent years, Utah lawmakers have passed laws related to medical cannabis and Medicaid. But many Utahns claim these efforts didn't go far enough. For instance, Utah's current medical cannabis law restricts access to adults with terminal illnesses. Likewise, over 100,000 adults remain in the Utah's Medicaid coverage gap.
While we encourage voters to carefully study all of the initiatives, the American Civil Liberties Union of Utah, 501(c)4, is formally supporting the Better Boundaries Proposition #4 to end partisan gerrymandering.
What is Gerrymandering
Every ten years the Utah Legislature redraws district lines for the state's elected offices—from members of Congress to state lawmakers—based on population changes. These adjustments may be minor or significant depending on the whim of legislators. Gerrymandering is a long-standing practice (dating from 1812) in which district lines are purposefully redrawn to predetermine the outcomes of elections. The ACLU believes gerrymandering is harmful to democracy because it artificially dilutes or strengthens voters' representation. Consequences of gerrymandering include unrepresentative elected bodies and reduced turnout due to voter apathy. In 2017, the ACLU filed briefs in two partisan gerrymandering cases before the U.S Supreme Court. In both cases—one filed by Democrats in Wisconsin, the other filed by Republican voters in Maryland—the justices declined to rule on the constitutionality of partisan gerrymandering, leaving efforts like Better Boundaries the best way forward for states to pursue change.
Utah isn't a stranger to gerrymandering. After Utah's 2001 redistricting map resulted in 684,000 voters shifting among the state's three congressional districts, the Wall Street Journal called the effort a "scam" to defeat the state's lone Democratic member of Congress. Those aims continued in 2011—now aided by mapping programs—when the next wave of redistricting rotated the state's now four districts around the state like a pinwheel. Meanwhile, analysis by the Utah Foundation found that Utah's 2016 voter participation ranked 39th nationally and had declined over the last four decades.
Seeking Better Boundaries
Frustration with the 2001 and 2011 redistricting processes led to this year's Better Boundaries initiative. If passed by voters, proposition #4 will make it harder for the Utah legislature to gerrymander new districts by, 1) creating an alternative pathway to develop a nonpartisan redistricting map, and 2) forcing the legislature to justify any deviation from the nonpartisan plan.
The initiative creates a seven-member commission to recommend redistricting plans for federal and state offices. Seven states—Arizona, California, Hawaii, Idaho, Montana, New Jersey, and Washington—already require this. Commission members will be appointed by the Governor and the leadership of both houses of the Utah Legislature. The initiative also requires that commission members not serve as lobbyists or party delegates, and it prohibits them from running for office for four years after serving on the commission.
Better Boundaries does not force the state to adopt the commission-drafted redistricting plan, but it does require the legislature to vote on it. If the legislature chooses its own map, the initiative requires lawmakers to justify their decision. It also empowers the commission to evaluate any legislature-drawn map based on standards designed to reduce gerrymandering, such as keeping counties and cities whole; creating geographically compact and contiguous districts; preserving traditional communities; and following geographic features.
Finally, Better Boundaries allows Utah residents to sue to block implementation of any redistricting that fails to meet the initiative's standards—a powerful brake on the legislature's ability to ignore the commission's mandate.
The ACLU of Utah believes that Utah's next redistricting map in 2021 should not be left for elected leaders to draw for their own benefit. The Better Boundaries initiative removes politics (and politicians) from the redistricting process, and we think that is how it should be. This fall, Utah voters can start the process to make redistricting work by voting for Better Boundaries and proposition #4.
This article was first published in the Liberty Reporter: 2018 Fall Newsletter >>