Fall 2019 - Liberty Reporter Newsmagazine
The Fall 2019 issue of Liberty Reporter newsmagazine is out--with a cover story about high-tech threats to Utahns' right to privacy, plus other stories on the 2020 legislative session, Smart Justice's campaign for greater transparency, and the ACLU of Utah's new voting rights campaign. 
"Of all of your civil liberties, your right to privacy is the most elusive. You can't hold it like a newspaper, invoke it like your right to a lawyer, or mark it like an election ballot. Privacy is so intangible that you often don't know when it has been violated. And that's a problem, because it is now clear that state and local law enforcement agencies in Utah have been working on new and intrusive ways to violate our privacy over the last several years."
From the cover story, "State of Surveillance"
The Liberty Reporter is a biannual newsmagazine mailed to all ACLU of Utah members and many supporters. 
First published October 15, 2019.
Read this newsmagazine as a (PDF)
Inside the latest issue:
Perspectives
How do you balance the benefits of new technology with the loss of privacy it can bring?
Dixie State Aids Immigrants
A new fingerprinting service helps Washington County immigrants secure driving privilege cards.
Making Voting Easier
Helping more Utahns vote is the goal of our new full-time colleague, Niki Venugopal.
"We Will See You in Court"
Six months ago we filed a lawsuit to stop the state's 18-week abortion ban. Here's where it stands.
Data-Driven Justice
Criminal justice reform won't happen unless we learn what's going on inside the system.
Endgame for Rio Grande
As the police sweeps wind down, addressing the long-term damage they caused is just beginning.
COVER STORY: The State of Surveillance
To protect our right to privacy, we first need to realize what we might lose.
Download as a PDF
A Day in the Life of a Community Outreach Coordinator
How does Sydni Makemo introduce the ACLU to residents of Southern Utah? Let's find out.
2020 Legislative Preview
Prepare for next year's legislative session with the ACLU of Utah's chief lobbyist.
Unblocking the First Amendment
Announcing a new toolkit to help Utahns regain access to government social media pages.
Jails Deserve Justice
Sara Wolovick returns to the ACLU of Utah for a two-year fellowship focused on jail reforms.
Related content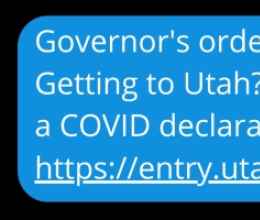 April 15, 2020